Motion is a quarterly digital magazine for road transport professionals interested in learning more about the role of technology in freight transport, and how it might help make their operations more efficient.
Sign up today and receive this free publication straight to your inbox every 3 months, along with free access to back issues.
In the current issue
2017 Transport Predictions
Brexit: Business as Usual
Sector Report: Food and Bakery Distribution
 Telematics, Compliance and Vehicle Health
 Remote Tyre Pressure Monitoring
 Is Home Delivery Efficient?
 Our Industry Insider Lambasts Suppliers
 Plus lots more…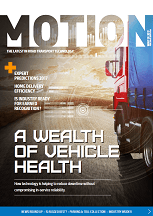 Subscribe now to the latest issue
We keep your private information private and will never share it with any third parties.
Motion Magazine Back Issues